About Us
Management Team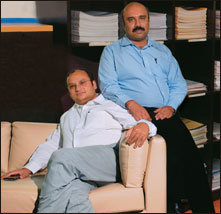 Mr. Neeraj Choksi & Mr. Jignesh Desai (R) are two first generation entrepreneurs who began the journey of 'NJ' in 1994. The promoters of the NJ Group were friends since their college years and the bond between Mr. Neeraj & Mr. Jignesh has been instrumental in the success of NJ. Discussing upon important things before taking any decision, is a habit that they have followed ever since they shared their hostel room in Vidhyanagar, where Mr. Neeraj was studying his management courses and Mr. Jignesh was into engineering. They both have a complementary style of functioning that augurs perfectly well for the business.
Driven by their passion for delivering real value to the customers, the promoters have successfully put NJ on the forefront of innovation & growth. With a humble beginning from home, the promoters have successfully shaped the group's forays into many diversified businesses. NJ Realty is an attempt to connect to customers and offer great value through realty programs / projects. At the core is the idea to keep environment and affordability in focus in all realty engagements with stakeholders. Both believe that 'Trust' has played a very important role in NJ's journey, and in every step that they have taken. And with NJ Realty, the promoters are aiming to strengthen this trust of customers and associates.

Mr. Jigesh Desai
Jigesh Desai is the Product Head for Real Estate having joined NJ 6 years back after being an entrepreneur in the realty market. With an experience of over 15 years, Jigesh is the person with sound grip on the realty market.